The fishing has been excellent for us all year and that continues to hold true. The fish are moving north and we are following them! We are staying on top of the fish, but that means we are moving our houses about every 4-5 days.
We are still seeing a good mix of walleye and sauger in the buckets, with the sauger's coming in with awesome quality (14-16 inch fish). The hot bait this past week seems to be the Pink Charmer and the Northland Buckshot Rattle in 1/8-1/4 oz. sizes. The best colors in those baits have been pink glow and gold or red glow and black. Make sure you have a good mix of bait, one day chubs are the ticket and the next day shiners will be the trick.
The fish are generally holding tight to the bottom, but don't forget your flasher, as there are a fair amount of fishing coming in suspended and those suspended fish usually turn out to be nice walleye. We have plenty of ice on the lake and travel is solid as long as you stick close to the roads or have 4wd.
We have plenty of the hard water season left and fishing continues to be really good, so don't waste any time and book your trip to the best hard water fishery in the world with Sweet's Fishing.
Feel free to forward this onto any of your friends looking to come up and enjoy the fishery that is Lake of the Woods! Tell them to subscribe to these emails at sweetsfishing.com
Just a friendly FYI that before long, the hard water will be gone and it will be time to chase the walleye's down in a boat! Sweet's Fishing offers charter trips for groups up to 6, along with a cabin rental for a place to sleep after a long day catching walleye with Steve Sweet!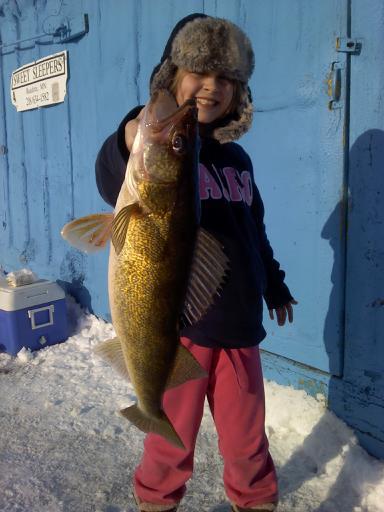 Steve Sweet
218-368-7323