The hard water fishing season is here and well underway at Sweet's Fishing! Come and enjoy world class walleye fishing on beautiful Lake of the Woods. Experience the best Walleye fishing in the Midwest with Steve Sweet and buckle up for a fishing experience like no other.
Sweet's Fishing is strategically located just minutes from Four Mile Bay with easy access to Lake of the Woods as well as the Rainy River. Sweet's Fishing offers year around guided fishing on Lake of the Woods. Whether you prefer fresh water or frozen water, Sweet's fishing will have you on the fish!
Sweet's Fishing is a family run business that specializes in putting our clients on the fish and providing anglers with an experience that they can brag about for years. Give us a call to plan your next fishing trip to Lake of the Woods!
Call today!   218-368-7323
Sign up below to receive the Lake of the Woods fishing reports:
About Steve
With over 30 years of experience guiding walleye fisherman on Lake of the Woods, there is no better person to take you out on your trip of a lifetime than Steve Sweet. Steve knows where and how to find the fish. Whether it is fresh water or frozen, Steve Sweet has the knowledge and equipment to put you on top of the fish. If you are going to spend your valuable time and hard earned money on a fishing trip, you want to make sure you get your money's worth. So come fishing with Steve Sweet on Lake of the Woods for the best walleye fishing in the country!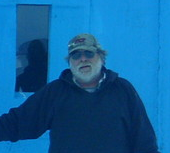 Steve Sweet
Chance of Rain

A few showers developing late. Lows overnight in the mid 50s.

Chance of a Thunderstorm

Scattered thunderstorms. High 68F. Winds S at 10 to 15 mph. Chance of rain 60%. Rainfall may reach one inch.

Partly Cloudy

Some clouds in the morning will give way to mainly sunny skies for the afternoon. High 82F. Winds SSE at 5 to 10 mph.

Partly Cloudy

Partly cloudy skies. High 78F. Winds W at 10 to 15 mph.

Clear

Sunny. High near 75F. Winds NW at 5 to 10 mph.

Follow my weekly reports, tips, and techniques - fishingminnesota.com and lake-link.com!